James Campion from our Solihull Salon recommends less is more when it comes to keeping your curls looking pristine. The less you touch and mess with your hair the more defined your curls will be. The perfect cut can help maintain a more controlled style and can stop it looking unruly or, as is often the case, bottom heavy. Our team of highly skilled stylists are here to help this not happen!
The best way to control your curly hair is through products; Oils, Hair Moisturisers, Leave in conditioner, Serums, Hair Crèmes. The products we recommend are from Kerastase and are available at all 3 of our salons across Birmingham.
The Discipline range, is Kerastase's first range ever designed to keep your hair looking frizz free and feeling smooth whilst defining your beautiful curls.
Cleansing Conditioner Curl Ideal 
This shape in motion cleansing conditioner is your first point of call for all unruly hair. It was formulated specifically to treat and define the look of curls.
Pros
Gentle Cleansing
No Silicone
No Sulphates
Directions
Apple 4 to 6 pumps to wet hair. Distribute evenly from the scalp to the ends and leave on for 2 – 3 minutes. Emulsify with a little water and then rinse thoroughly.

Curl Ideal Masque
This Shape in motion mask is designed for over-volumous unruly curly hair
Pros
Experience frizz-free shapely curls
Achieve controlled, elegant free flowing hair
Directions
Apply to washed and damp hair from length to ends and massage. Leave on for 5 minutes and rinse thoroughly.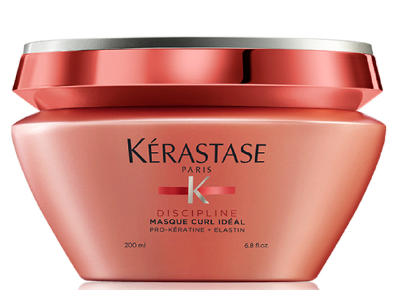 Oleo Curl Crème
A leave in conditioner that works to smoothen, soften and define unruly curls.
Pros
Anti Frizz and Natural touch
Reduces the appearance of frizz
Relaxed and voluptuous looking curls.
Directions
Apply a chestnut sized amount onto washed and towel-dried hair. Massage onto the length and ends and style using a hairdryer or a heated styling appliance. Leave on.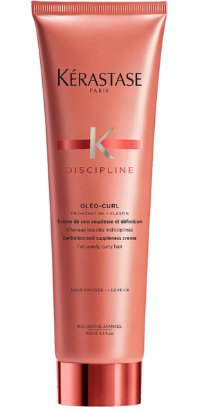 Mousse Curl Ideal
 Definition bounce care mousse for unruly curly hair.
Pros
Anti-frizz and natural hair touch
Reduces the appearance of frizz
Relaxed and Voluptuous looking curls
Directions
Apply to cleansed and treated damp hair. Spread along the length of the hair with a scrunching gesture and leave in. Style as desired.

The Nutritive Range provides nourishing care for dry sensitised hair. There are two products from this range which were specifically designed with Curly Hair in mind.
Bain Oleo Relax
Smooth oil enriched shampoo for dry and rebellious hair.
Pros
Dry and Rebellious hair is left feeling soft and supple
Eases detangling and provides long lasting anti-frizz control
Directions
Apply to wet hair and massage through the scalp and hair. Rinse thoroughly and repeat if necessary.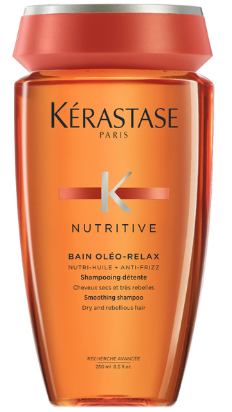 Oleo Relax Serum
Smoothing serum to discipline fine, dry, frizzy, unmanageable hair. The softening formula will leave hair silky smooth.
Pros
Reduces volume and detangles hair
Provides smoothness and long lasting protection
Leaves hair glossy, shiny and soft
Directions
Use just one pump of oleo relax serum and work through the lengths and ends and leave in.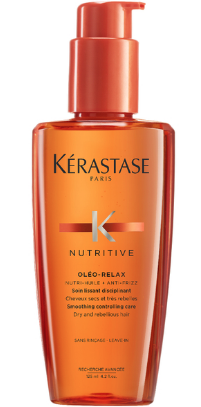 Creative Stylist Andi Pile from our Soliull Salon is natural with curly hair, maybe because he's got the wildest hair across the James Bushell Brand. He has given us his top tips on how to get your hair looking its best:
Only comb through the hair when it is wet, and ideally with conditioner
Use a diffuser with your hair dryer gently, at a low speed and medium heat
If your hair is lacking volume, tilt your head to the side
If you have fine hair and need extra hold, use a none aerosol hairspray
Use Kerastase Oleo Relax Serum and scrunch it into you hair