Our Harvey Nichols Manager and Stylist George Yiannis has shared with us his Top 5 leave in Kerastase products right now. George has been in the hair industry for over 10 years and his wealth of knowledge leaves his clients rebooking appointment after appointment.
Fluidissime Spray
Complete anti-frizz care leave-in for unruly hair.
Protects the fiber during styling, for a glossy and anti-frizz finish.
Discipline range benefits:
Hair looks smoother from root to tip
Hair is replenished with healthy-looking shine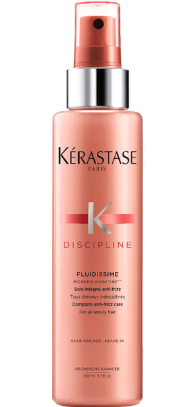 Elixir Ultime Beautifying Oil Cream
Elixir Ultime Versatile Beautifying Oil Cream with White flower and pomegranate extract, perfect for adding shine and protection to normal to fine hair. Leave-in cream.
Hair feels light and natural to the touch with natural radiance and protection.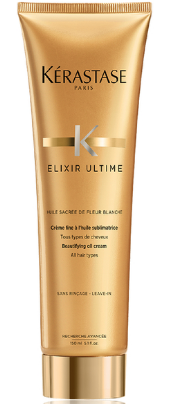 Elixr Ultime Oleo-Complexe Radiance Beautifying Oil
Radiance Beautifying Oil for colour-treated hair enriched with Oléo-Complexe and Imperial Tea extract that enhances the depth of colour radiance.
Conditions processed hair & protects from dryness. Colour-treated hair looks radiant and glossy with a sensual softness.
Can be used in multiple ways to:
Pre-Cleanse: A luxurious pre-wash to prepare hair. Apply to brushed hair and rinse out before applying shampoo to remove styling or daily residues.
Pre-Blow Dry: Apply to towel-dried hair and blow dry as normal to nourish the feel of hair, protect and maximize shine.
Finishing: Work into the ends of the hair to control the look of frizz, smooth and style the hair whilst adding shine.
Touch-up: Apply throughout the day to add a touch of shine as needed

Resistance Sérum Thérapiste
The first split ends perfecting care – Sérum Thérapiste. This product is the perfect final step to protect against heat and add an extra dose of softness to the mid-lengths and ends.  This product can be applied on both damp and dry hair.
Additional benefits:
Instantly heals and seals the ends of the hair
Split ends appear reduced
High heat protection of up to 230°
Combines oil-based care with cream-textured top coat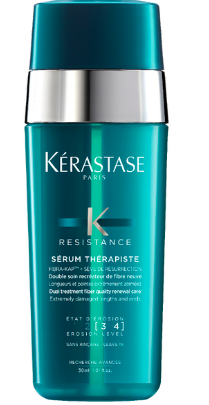 Formme Fatale
The innovative blow-dry gel with golden mirco-particles shapes hair to give it the desired style.
Supports a long-lasting shape.
Ideal for normal to fine hair.
Strong Hold.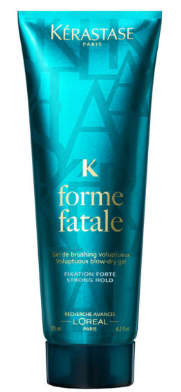 All of these products are available at all 3 of our salons across Birmingham. For more information or to purchase these Kerastase please call 0121 711 1100
Edgbaston – Option 1
Solihull – Option 2
Harvey Nichols – Option 3